Whether you're a seasoned marathon runner or a casual jogger, one thing is critical when running: staying hydrated. What's challenging, however, is figuring out how to carry water on a run without feeling weighed down or all the water bouncing around. This article will help you explore the best hydration systems for running, from water bottles to hydration vests, and discover how to stay hydrated while maintaining a comfortable running style.
How to Carry Water on a Run: Hydration Options to Keep You Going
With so many methods of carrying water and gear capacity available, let's look at several options for staying hydrated while running.
Handheld Water Bottles
A popular and simple solution for staying hydrated is handheld water bottles. These easy-to-carry and easy-to-drink-from containers typically have a strap around the hand for a good grip, ensuring that you won't drop it mid-run. Handheld bottles come in various sizes to meet your hydration needs, but be cautious on longer runs or in hot weather; you may need more than just one handheld water bottle.
Pros of Handheld Water Bottles:
– Good grip and easy access to drink water
– Can choose different size water bottles to suit your needs
– Can be easily refilled at aid stations or water fountains
Cons of Handheld Water Bottles:
– May not provide enough water capacity for longer runs
– Can affect running form or balance with longer use
– Must physically carry the bottle; not hands free
Hydration Vests and Backpacks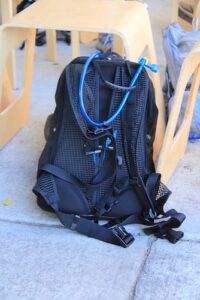 Hydration vests and hydration backpacks are excellent options for runners who need more water and gear capacity on long runs or trail adventures. Most hydration packs include a hydration bladder that can hold between 1.5 to 3 liters of water, which can be sipped easily through a tube while running. Hydration vests also provide additional pockets for essentials like a sports drink, electrolyte tablets, and even a car key.
Pros of Hydration Vests and Backpacks:
– Significant water capacity for longer runs
– Hands-free hydration system
– Additional storage for essential items
Cons of Hydration Vests and Backpacks:
– May be too bulky or hot for shorter runs or warmer weather
– More expensive than other hydration options
– Can be challenging to clean hydration bladders
Waist Packs and Waist Belts
Another option to carry water on a run is to opt for waist packs or waist belts that secure around your waist rather than your back or hand. Most waist belts come with one or two bottles to distribute the weight evenly around your body. These tend to sit comfortably and don't bounce excessively, allowing you to maintain your running form. Some waist packs even come with additional pockets for smaller items or snacks.
Pros of Waist Packs and Waist Belts:
– Distributes the weight of water bottles evenly
– Provides hands-free hydration
– More streamlined than hydration vests for shorter runs or warmer weather
Cons of Waist Packs and Waist Belts:
– Limited water capacity compared to hydration vests
– May not be ideal for trail runners who need extra gear capacity
– Can cause discomfort if not adjusted correctly
Soft Flasks and Fuel Belts
Soft flasks are a lightweight option for carrying water while running and can be placed in a hydration vest, waist belt, or even on a running belt. These collapsible bottles can be filled with your choice of hydration, whether it's just water or a combination of water and a sports drink. Team them up with a fuel belt that can comfortably store your flasks and other essentials.
Pros of Soft Flasks and Fuel Belts:
– Lightweight and collapsible for easy storage
– Versatile and can be used with other hydration systems
– Can be filled with a variety of hydration choices
Cons of Soft Flasks and Fuel Belts:
– Limited water capacity compared to most hydration packs
– Can shift or bounce if not secured tightly
– May require manual handling to drink water
Selecting the Best Hydration System for Your Run
When considering how to carry water on a run, it's crucial to find a balance between water capacity, gear capacity, and comfort. Keep in mind your running environment, distance, and preferences when choosing the best hydration system for your needs. As you experiment with different methods, remember that staying hydrated on your run is essential for optimal performance, so prioritize drinking water to keep up your stamina and energy levels. The perfect hydration strategy is key to overcoming the challenge of carrying water during your run, allowing you to stay hydrated, focused, and prepared to conquer the miles ahead.