In this article, we will explore how trail running helps in body toning and the various muscle groups that are targeted during this activity. Trail running has gained immense popularity in recent years and for good reason. Not only does it provide a great workout, but it also offers a unique experience of being surrounded by nature. One of the many benefits of trail running is its ability to help in body toning for trail runners. In this article, we will explore how trail running helps in body toning and the various muscle groups that are targeted during this activity.
How Trail Running Helps in Body Toning
Trail running is an excellent way to tone your body and build muscle mass. Unlike road running, which primarily targets the lower body, trail running engages various muscle groups throughout the entire body. The uneven terrain and constant adjustments required to maintain balance activate muscles that are not typically used during road running. This activation leads to increased muscle development and toning.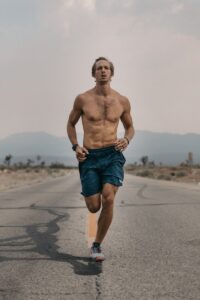 Trail Running Build Muscle
Trail running specifically targets the abdominal muscles, thigh muscles, and leg muscles. The slight forward lean that is required during trail running engages the abdominal muscles, helping to strengthen and tone them. The constant uphill and downhill movements activate the thigh muscles, resulting in increased muscle tone and strength. Additionally, the strong leg muscles are constantly engaged to maintain balance on the uneven terrain, leading to stronger and more defined leg muscles.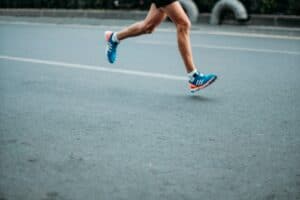 Trail Running Burns Fats
Furthermore, trail running also helps in burning body fat. As trail running builds muscle, it increases your metabolic rate, leading to more calories burned even at rest. This, in turn, helps in reducing body fat and achieving a leaner physique. Trail running is a surefire way to not only lose weight but also to sculpt and tone your body.
Other Benefits of Trail Running
In addition to toning muscles and burning body fat, trail running also offers many other benefits. It is a great form of cardiovascular exercise, improving heart health and increasing lung capacity. The varied terrain and elevation gain during trail running also contribute to improved bone density. The impact of running on uneven surfaces stimulates bone growth, resulting in stronger bones and a reduced risk of osteoporosis.
Trail running also has positive effects on mental health. Being surrounded by nature and breathing in the fresh air can reduce stress and improve overall well-being. The combination of physical exertion and the calming effects of nature can boost mood and promote mental clarity.
To start trail running, it is essential to have the right gear, especially trail running shoes. These shoes provide the necessary traction and support for running on uneven terrain. They have a sturdier construction and stronger grip compared to regular running shoes, ensuring stability and reducing the risk of injury.
Trail running is a fantastic way to tone your body and improve overall fitness. Its ability to engage various muscle groups, burn calories, and increase muscle mass makes it an effective exercise for body toning. Additionally, the mental and physical benefits of trail running make it a popular choice among fitness enthusiasts. So, if you're looking to build muscle, burn fat, and enjoy the great outdoors, trail running is just what you need. Lace up your trail running shoes, hit the trails, and experience the transformative power of this incredible sport.